Liberal Arts Studio Hosts UT's First Afghanistan Crosstalk
When Vice Provost for International Programs Janet Ellzey wrapped up an appearance on the U.S. government's external broadcaster, Voice of America, little did she know it would snowball into a new, never-before- attempted pilot project for The University of Texas at Austin—or that her time working with Voice of America (VOA) was far from over.
Founded in 1942, Voice of America broadcasts news and information about the U.S. via radio, TV, mobile, and Internet to a global audience of 164 million. The largest international broadcaster in the United States, Voice of America transmits in 45 different languages and in many different countries, including Afghanistan, which was the target audience for the show on which Ellzey was featured November 2013.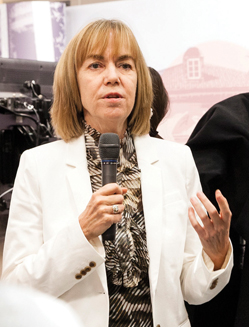 Her interest piqued, Ellzey did some digging following the episode's wrap, and was disappointed to learn that UT had only one student from Afghanistan enrolled that semester.
"Because of restrictions on travel, we have very limited ways of learning more about Afghan culture here in the U.S.," Ellzey says. "I was fascinated by the idea that we could use technology to create a conversation between two very different cultures. So I wrote VOA a proposal that very next day."
And a unique initiative, dubbed the UT-Kabul Crosstalk, was born. The premise: use videoconferencing to connect student leaders in Austin with student leaders in Kabul, Afghanistan, to help dispel stereotypes and enhance understanding between the two cultures. Through open discourse—moderated by VOA hosts—the two sets of students would learn more about each others' day-to-day lives on a university campus, civic engagement, post-college career prospects, and more. The show would be broadcast through a joint program between Channel 1 in Afghanistan, the second most popular channel in the region, and Voice of America in Washington, D.C.
"I was fascinated by the idea that we could use technology to create a conversation between two very different cultures."

Janet Ellzey
Five months later, Ellzey finally saw her idea come to fruition in the Liberal Arts Video Production Studio in UT's Mezes Hall. Popular VOA host Sayed Zafar Hashemi was flown in from Washington, D.C., to lead the groundbreaking discussion from the UT side. According to Hashemi, this taping marked the first time VOA's Afghanistan Service has filmed an entire program on a university campus—which shows just how important they think the Crosstalk concept is.
"Problems arise when people act on perceptions and misperceptions," says Hashemi, who hosts both radio and television programs for VOA. "An ordinary Texan doesn't get the opportunity to talk to an Afghan farmer. All they hear are little soundbites in the news. Shows like this will bridge that gap that exists between ordinary people."
An Afghan native, Hashemi knows a thing or two about those "ordinary" people. After spending his childhood in Afghanistan, Hashemi wove carpets as a teenager to support his family while seeking refuge in Pakistan during the Taliban years. A prestigious Scripps Howard journalism fellowship eventually brought him to the U.S., and with him came a unique educational perspective that made him a perfect host for the Crosstalk: he has been enrolled in both Kabul University and two American higher-ed institutions, including the University of Maryland University College and Johns Hopkins.
"In Afghanistan, the education and curriculum are focused a lot on theories and reading, sort of Soviet Union-style," Hashemi says. "Here, it's focused on current events and exchanging ideas instead of theories. But they do have their similarities."
To investigate what those similarities are, three students from UT's Senate of College Councils were recruited to participate in the discussion: Lauren Mills, an international relations and global studies junior; Kiefer Shenk, a finance, business honors, and sports management senior; and Christina Bae, a business honors junior.
Each was selected for their varying degrees of connection to Afghanistan. Mills has studied it in her global studies coursework, Shenk's father was stationed with the military there, and Bae had very limited knowledge about the country and its culture.
"I haven't had much exposure to the Middle East," Bae said prior to the taping. "I'm going to be the clueless one. Aside from what I've seen on the news, I probably don't know anything at all."
That all changed when the recording light turned red, and the Longhorns had the opportunity to videochat with their counterparts at Kabul University, American University of Afghanistan, and the University of Afghanistan. With the help of a translator and two moderators (including Hashemi), the six students discussed extracurricular activities, challenges faced on campus, and the desire to make a difference in their respective communities. Hearing the Afghan students express their frustrations at their country's struggling government and their hopes of helping to reform it, the UT students said, was an equally eye-opening and inspiring experience.
"I have been challenged by these students who are so driven to bring change and justice to their country," Bae said immediately after the filming. "Here I am worrying about my grades and my future while these students are taking on such big responsibilities to restructure their country—on top of being such high-achieving students."
The UT-Kabul Crosstalk episode aired in Afghanistan in late May 2014. The hope is that this is just the first of many collaborations between The University of Texas at Austin and other higher-ed institutions across the globe.
"Our mission is to increase our understanding of the world and its understanding of us, and VOA helps us accomplish that," Ellzey says. "This episode raised the curiosity of our students and provided a venue for them to ask questions. It's a good start."