The year was 1940: Europe was in its second year of war, and Japan was continuing its nearly 10-year expansion into Pacific Rim countries, especially China. The United States was able to stay away from the fray, but the summer would bring disturbing developments that would put the U.S. on high alert.
In June the Germans rolled into Paris and signed an armistice with France. The French ceded territory to Germany and Italy and formed a new puppet government in the small village of Vichy. It became apparent to many that the U.S. could not avoid being drawn into war.
Meanwhile in Texas, Governor Pappy "Pass the Biscuits" O'Daniel, along with a young U.S. Representative named Lyndon B. Johnson and Fredericksburg native Rear Adm. Chester W. Nimitz worked together to bring Navy Reserve Officer Training Corps (NROTC) to The University of Texas at Austin. Even the Texas Legislature and the UT Board of Regents were eager for this to happen, given world events.
Only six campuses across the country had such units. On Sept. 14, 1940, UT Austin would become the eighth when UT President, Homer P. Rainey received a congratulatory letter from the Secretary of the Navy, James V. Forrestal.
In anticipation of approval, UT Austin set aside space on the 4th floor in the old Journalism Building (now the Dorothy L. Gebauer Building) and was ready to open its doors that semester. Three hundred fifty men applied for these first midshipmen positions, and 110 were selected. Tuition was $25 per semester, and used books cost an extra $10. Midshipmen were not paid, but they were issued uniforms styled after those of Navy officers.
Midshipmen were required to wear their uniforms once a week and drill for one hour on the old intramural fields — a portion of which still exists today at the corner of Martin Luther King Blvd. (19th Street) and San Jacinto Blvd. Because of pre-war shortages, midshipmen drilled with wooden rifles. In those early days, the midshipmen suffered through catcalls and name-calling on drill days, but that would soon change.
On Dec. 6, 1941, at the UT vs. Oregon University football game at Memorial Field, 200 UT NROTC midshipmen put on an excellent exhibition of precision drill along with a color guard and drum and bugle corps. Texas won the game 71 to 7.
The next morning, radios blared the news of an air raid on American forces in Pearl Harbor, Hawaii.
The catcalls and name-calling ceased.
Every able-bodied man, regardless of political persuasion, stood in line at the recruiting office. Some midshipmen even left the program to get into the war earlier. From that point until the end of the war, all midshipmen, as well as any other person in the military, were required to wear their uniforms every day.
By June 30, 1943, eleven new Ensigns for the Navy and two new 2nd Lieutenants for the Marine Corps were ready for service as the unit's first graduating class. Adm. Chester W. Nimitz sent a note to UT Austin that appeared in the 1944 Cactus yearbook that read, in part:
"It is fitting that a state which once had a Navy of its own and has a color­ful naval tradition should cultivate the arts of seafaring."
In early 1944, while 47 seniors were awaiting graduation and commissioning, the Navy sent a message that the unit needed to also commission its 53 juniors. The Navy was eager to build up its forces in the Pacific and couldn't wait. Most had their courses for commissioning but did not have the courses needed for graduation. The "surprised" juniors, if they survived the war, would have to return to UT to finish and receive their degrees. On Feb. 28, 1944, in Gregory Gym, the NROTC unit commissioned 100 Navy and Marine Corps officers in the largest commissioning ceremony it has ever held.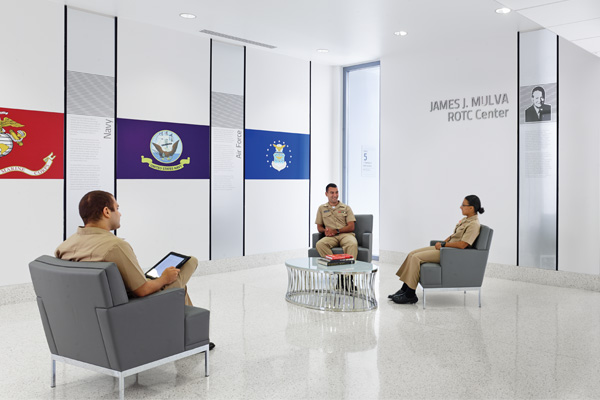 Fast forward to Jan. 5, 2015 when retired Adm. William H. McRaven, USN (Ret), took office as chancellor of the University of Texas System after a unanimous vote by the Board of Regents, putting an exclamation point on UT Austin NROTC's first 75 years of service.
McRaven is a San Antonio native and a 1977 graduate of UT Austin, where he was commissioned an Ensign in the U. S. Navy SEALS from the very same NROTC unit mentioned above. He rose through the ranks to achieve the highest flag rank of any NROTC alumni member, 4-star Admiral. It's hard to believe that he was once two years my junior while in the UT NROTC unit and I was his Company Commander.
A lot of history has taken place during the intervening years. About 2,200 Naval officers and 300 Marine Corps officers have been commissioned at UT Austin, some pursued military careers and others used the experience as a springboard to launch successful civilian careers.
Since 1985, UT NROTC alumni organize and host an annual fall reunion to swap old sea stories, learn about today's unit and brainstorm ways to enrich the midshipman's experience at UT. In the reunion's inaugural year, the program began accepting donations to help with incidental expenses not funded by the Navy or the university. By 1995, it had built up sufficient funds in an endowment to award scholarships that year and every year since.
A written narrative of the first 20 years of the university's Navy ROTC is planned for release at the reunion this fall. This first installment will cover the Korean War years; the founding of the Crow's Nest, a room and board co-op for midshipmen; the founding of the Buccaneers, one of the first NROTC drill teams in the country; and, the first building built on campus exclusively for ROTC and the arrival of the Army and Air Force on campus.
It is hoped that widespread publicity about this project will spur even more alumni to document and share their experiences, thus building upon a legacy that our future alumni can look back on for inspiration and with a sense of belonging.
Read more about NROTC Alumni Foundation.
Feature image: Courtesy of Texas Tradition yearbook.