Each year, the Larry Temple Scholarship recognizes two students in the College of Liberal Arts with superior academic merit.
First awarded in 1992, the scholarship honors Austin lawyer and public servant Larry Eugene Temple. Temple, a champion of higher education, graduated with a bachelor's degree from UT Austin in 1957 and received his law degree from The University of Texas Law School in 1959.
The 2016-17 Larry Temple Scholars are Scott Spivey and Zoya Zia, who were selected from a group of 10 finalists by the scholarship's committee.
Temple Scholars receive $12,000 per year as a way to help them enjoy and learn from university life and experiences. The scholarship is awarded at the beginning of each student's sophomore year and is renewable for two years, as long as students are enrolled full-time, maintain a 3.5 GPA and remain in the College of Liberal Arts.
Read more about this year's Larry Temple Scholars in the Q&A's below.
Scott Spivey
El Paso, Texas
Plan II Honors, Neuroscience Honors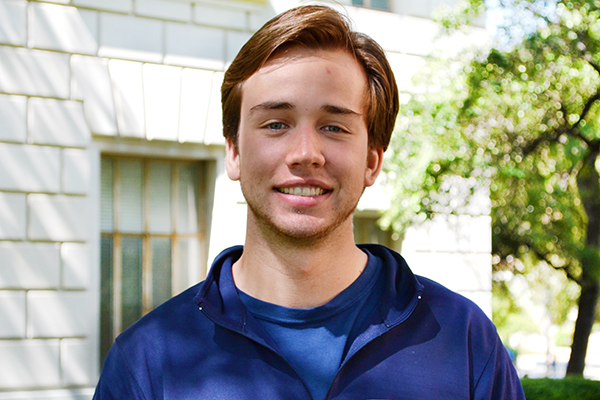 What was your upbringing like?
I am a second-generation immigrant from Mexico and love being able to celebrate two cultures. I grew up bilingual in the border town of El Paso and was in a dual-language magnet program for 12 years, where half of my education was in Spanish and the other half was in English. I think my upbringing largely defines my identity and my values.
What's is your favorite thing about studying the liberal arts?
I am so honored to be in the liberal arts, and specifically Plan II, for the opportunities to take a wide array of fascinating courses that explore outside the realm of my very structured pre-medical education. It allows me to study subjects and topics that I am also interested in – such as psychology, philosophy, literature, and religion – which in turn make me a more versatile and well-rounded student, I think. Most importantly, as alum and donor Bobby Patton recently put, the liberal arts allow students to learn how to learn and how to keep on learning beyond our college years. 
What made you want to apply for the Temple Scholarship? 
I was invited to apply to the Temple Scholarship in the summer and it immediately piqued my interest. Not only is it a very generous monetary award, but it also provides the opportunity to meet prominent community leaders. During my junior year of high school, I was involved in a program called Junior Leadership El Paso through the El Paso Chamber of Commerce; once a month, we were taken to explore different sectors of the El Paso area and meet the movers-and-shakes of the community. This scholarship reminded me a lot of that, and I figured this could be my chance to get to learn more about the Austin community and get my voice heard. 
How did you react when you found out you'd been selected? Who did you tell first?
I was completely shocked (and still am). I was extremely grateful to the committee for selecting me, and to the Temples for their generosity. It felt great to get this recognition. I first told my roommates, who I was with, and they had known how nervous I was for the interview. I next called my parents, who were elated and began to cry, which proceeded to make me tear up, but they were all tears of joy.
What advice would you give to incoming students?
I would advise students to come to school with plenty of curiosity and with ambition to work hard for their goals. College is the best time to learn about your interests and how you want to pursue them. On the same note, however, the time to start grinding starts your very first year, knowing that it will pay off down the road.
What are your goals for the future?
Every since I was a little kid, my biggest goal has been to be accepted to medical school and subsequently become a physician with the dream of being able to help people. Specialty-wise, I am still unsure of what I want to do. Recently, however, I have also developed increasing interest in the fields of narrative medicine and health policy, which I believe would allow me to put my liberal arts education to use, and hopefully also be a leader in the community one day, wherever I may be. I would love to participate in Doctors Without Borders in the future, and advocate for and research improved healthcare methods in impoverished areas. 
Zoya Zia
Round Rock, Texas
International Relations & Global Studies, Liberal Arts Honors
What was the scholarship's interview process like?  
It was daunting at first. I spent the night before the interview reading over my personal statement and leadership essay to consider some talking points. When I walked into an unusually empty CLA the next day, I was unsure what questions I would be asked and what answers I would give.
Two Temple Scholars were sitting outside the conference room. They assured me that it was normal to feel nervous and that I should focus on being myself. This advice was incredibly valuable. Rather than articulating the responses I thought the panel wanted to hear, I expressed my own thoughts and beliefs. Although their questions were challenging, I did not feel pressured to emulate someone else—I was just me. I did not know whether that would be enough, but I walked away knowing I put forth every best effort.

How did you react when you found out you'd been selected? Who did you tell first?
I did not expect to be informed of the decision so quickly. Dr. Carver said he would contact me later in the afternoon. I resolved to take my mind off the scholarship by watching the UT vs. OSU game. Minutes into the fourth quarter, an unknown number called my phone. I took a deep breath and answered the call—I am still stunned by what Dr. Carver had to say.
When I learned of my selection, I was overcome by a sense of honor. I called my mom first and could almost see the smile on her face. She handed the phone to my dad, who was also joyous. Making my parents proud is one of my deepest aspirations, and hearing their excited voices was humbling.
What's your favorite thing about studying the liberal arts?
In a world where certain views are undermined or even excluded, liberal arts thrive on diversity. Fields including math and science coincide with literature and history to share differing perspectives on society. We better understand society when multiple views are presented. I enjoy connecting past and present to consider the future, especially through the lens of literature.
Last semester, I read "A Raisin in the Sun" by Lorraine Hansberry. Our class took a multidisciplinary approach to the text and investigated underlying socio-economic standards and racial issues. Rather than merely pointing out literary devices or patterns, we also analyzed the circumstances that may have influenced the text. Liberal arts are rich with experiences that weave the layered fabric of humanity.

What advice would you give to incoming students?
At some point in their college careers, students may feel incapable of achieving success. Bouncing back from a rejection letter or tough week can be difficult and perhaps overwhelming. Instead of accepting defeat, students should keep following their passions. Malcolm X once said "the future belongs to those who prepare for it today." Despite the setbacks, every experience at UT contributes to prospects for a bright future. Students should always remember what motivated them to attend college in the first place.
What's your proudest accomplishment?
In the past couple of years, I have grown comfortable with my identity as a first-generation American and Pakistani-American Muslim. I am no longer afraid of expressing my opinions or embracing my culture. Although I battled with pressures to conform as a child, I fought for self-acceptance—for that, I am proud.

What are your goals for the future?
As an undergraduate student, I hope to become fluent in Arabic and improve my Urdu while learning about the associated cultures. I have always felt close to the Middle East and South Asia because of my background. In the future, I aim to promote human rights in the region through nonprofit work. I also want to explore the relationship between international law and public policy. I envision myself working alongside governmental agencies with the objective of promoting human rights. For too long, the Middle East has been plagued with internal and external violence. By learning about the political interests and cultures that dominate the region, I hope to find ways to affect positive change–especially with youth education and literacy.

What's something about yourself that would surprise people you know?
Many of my friends and family members may be under the impression that I have already mapped out my career and know exactly what I will do. This is far from the truth. Although I know what my passions are and having committed to following them, I struggle with uncertainty. I have much to learn and experience before I can develop a more defined picture of the future. I take it day-by-day strive towards self-improvement and knowledge acquisition.