Estefania Rodriguez is a Mellon Engaged Scholar Initiative Fellow from Houston, Texas, who is triple-majoring in journalism, Latin American studies, and international relations and global studies. She was named a 2021 Dean's Distinguished Graduate, one of only 12 liberal arts students honored each year. In this Q&A, read more about her research into environmental justice and prison abolition, as well as her deep passion for teaching.
What drew you to your majors?
I came into UT Austin as a journalism major because I cared about the various issues my communities were facing and felt like reporting on them was the best way I could make a difference. I ended up adding international relations and global studies the summer between my first and second year, and then Latin American studies in the middle of my second year, because I realized that while my journalism courses were helping me develop technical skills—writing, photography, etc.—they weren't really teaching me about the world or how to critically engage with it.
I chose IRG and LAS specifically because I appreciated the freedom we had in choosing different areas of interest and their focus on creating globally-minded and forward-facing students. In journalism, you're kind of broadly taught to stand back and watch while others take action. You have a lot of sequential courses where you take one photography class and then you advance to the next. In my COLA classes, it was almost the exact opposite. If I wanted to take a class about revolution in Latin America one semester and then about natural disasters the next, I could. I had professors push us toward acting on the issues we learned about in class. To me, that meant the world.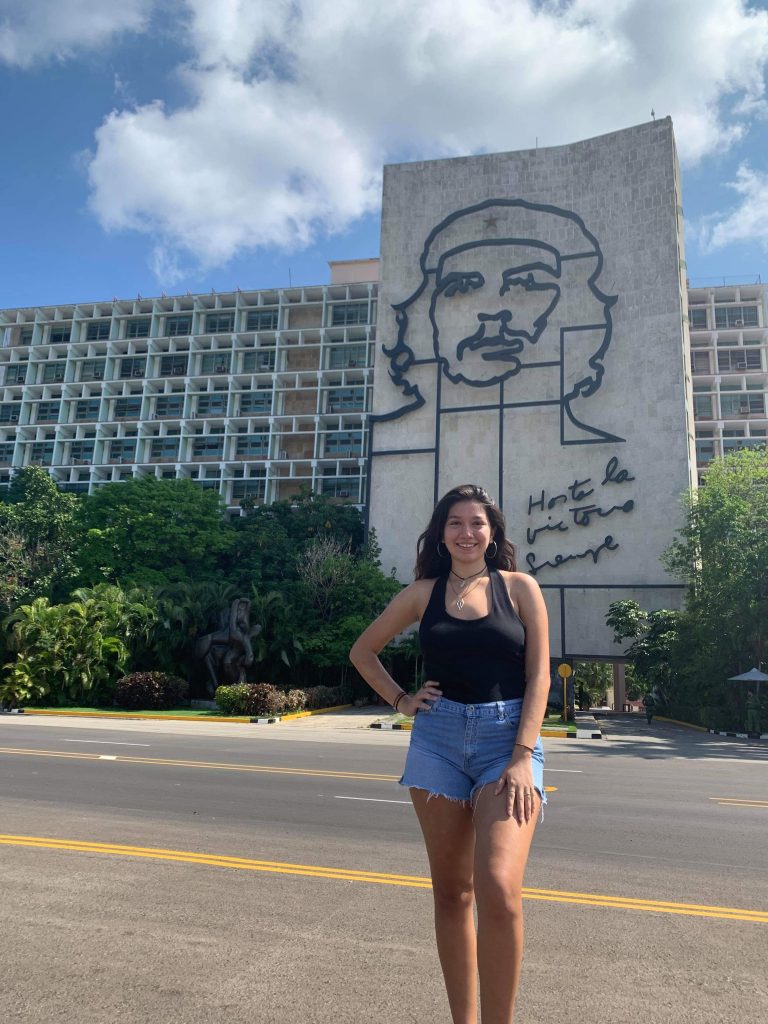 Describe your experience studying abroad in Cuba.
The entire thing felt extremely surreal. When I went to Cuba, I was actually just coming back from a semester abroad in Costa Rica, so I was always just like "there's no way this is really my life." The course was very exploratory and hands-on, so we got to talk to a lot of professionals in their field and we would go on a lot of visits to different museums and monuments. I remember actually crying when we visited the Plaza de la Revolución, because I couldn't believe I actually had the opportunity to be in such a historic place. The whole thing was amazing.
Tell us about your work with Generation Citizen.
Generation Citizen is a nonprofit organization dedicated to providing action civics education to middle and high school students, typically from marginalized backgrounds. This is now my fourth year with Generation Citizen, and my tasks and roles have shifted a lot over time. I started at Generation Citizen as a democracy coach – each semester I would get paired with a different Austin ISD classroom and I would guide the students through building and developing a local advocacy project in their community. During my second and third year, on top of being a democracy coach, I also held different officer positions in the student chapter (first as the community director and then as the chapter executive director), which involved planning social events for the group, keeping track of every volunteer's progress and running the weekly meetings. When COVID hit, Generation Citizen actually stopped their college volunteer program, but I wanted to continue to work with them. I reached out to the local staff, and I am now doing research and writing a report about their implementation in and collaboration with Elgin ISD.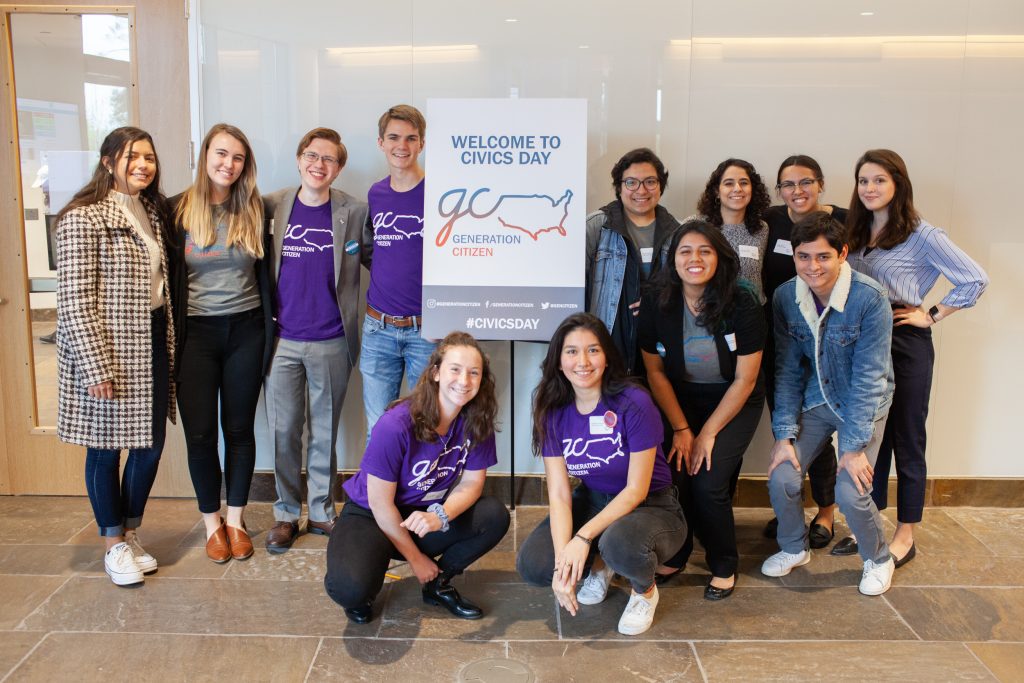 How is your research going with the Engaged Scholar Initiative?
My research with ESI has been kind of all over the place, as I'm currently tackling several projects. The project that I'm most passionate about deals with the interconnections between the prison industrial complex and environmental justice, specifically focusing on how the construction of prisons harms the land and how incarcerated people are impacted by climate disaster. For that project, I'm in the process of creating a zine, writing an op-ed, and constructing a curriculum plan that can be implemented in high school English and Environmental Science courses in hope that I can spark that same interest I have within others.
Where did you get the inspiration for that topic?
In Fall 2019, I attended a small round-table discussion by the Environmental Justice Collective, which first introduced this idea to me about how abolition can be a framework through which we can collectively work toward a world of environmental justice. A few months after that the pandemic started, and incarcerated people were one of the worst hit populations in the United States. I was reading an article, I believe by the New York Times, about how some politicians expressed hesitancy at releasing incarcerated people in California despite the life-threatening nature of COVID in prisons because their labor was needed to fight the historic wildfire season. I went down a research hole that day and just knew that this specific issue was a struggle I was invested in.
Can you share the most important thing you've learned in college?
I became an abolitionist in college. I think a lot of public discourse—in the belief that a world without prisons is impossible—would label abolitionists as both unreasonably angry and hopeful, as well as naïve about the world. I don't think that's right. Believing in and struggling for an abolitionist future requires an incredible amount of love and compassion for others as well as a deep dedication to understanding and working alongside our communities. Being an abolitionist requires an open mind and a strong commitment to rethinking and restructuring your relationships, actions and conceptions of the world. That's not naïve, that's brave. And it was through the classes I took, the relationships I formed, and the work I did while at UT that I developed that bravery, love and commitment that allowed me to engage in abolitionist thought and practices.
What are your professional goals?
I want to help others learn. Education has the potential to generate so much change – it pushes people to be vulnerable as they explore new worlds and it energizes students as they develop new passions. It teaches us to engage with one another and with the world in new and more interesting ways. I see [teaching] playing out in a couple of different ways in my life. I know I want to be a public high school teacher in history or ethnic studies. I also would really like to work in an education and outreach role within an advocacy or nonprofit organization at some point. I've worked at the study abroad office before and would love to get a chance to work in another one. I think in my ideal world, I would just get to bounce around these different positions based on my interests at that point in my life.
What do you love most about teaching?
My answer to this question probably varies from day to day, but today I would say my favorite part about teaching is the mutual development of my students' and my beliefs and skills over time. I feel like children are, or historically have been, extremely underestimated and almost disrespected—you often hear that they're "too young" to understand this social problem or that mathematical concept or that "adults know best." I reject that wholeheartedly.
I've had serious conversations with my then 12-year-old brother about things like the coup d'état in Chile or prison abolition. I've had discussions with my high school students about what the value of political activism and community organizing even is when you're marginalized and suppressed by the government. These conversations have always ended with insightful commentary and questions on their part and a deeper understanding and more critical awareness on mine. So, I love being able to undergo the learning process alongside my students—they are capable of understanding and growing so much, and it's amazing to be able to take that journey with them.