Lisa B. Thompson is doing great. Not "all right" or "pretty good under the circumstances" or any other common COVID-era reply to the question of "how are you?" Just great. And it's not surprising. Her life of late is series of awards, achievements and new projects so plentiful that it's honestly a bit hard to keep track of them all.
Thompson exists in two realms. In one, she is an award-winning playwright whose work has been produced in the U.S. and abroad. In the other, she is a professor of African and African Diaspora studies at The University of Texas at Austin who has published numerous articles about identity, representation and performance, as well as the book Beyond the Black Lady: Sexuality and the New African American Middle Class. She was recently appointed to the Bobby and Sherri Patton Endowed Professorship in African and African Diaspora Studies.
In the Spring of 2020 she received both a MacDowell fellowship and an American Council for Learned Societies (ACLS) fellowship. The former, an on-site residency in New Hampshire, allowed Thompson to start on a new multimedia performance piece titled The Black Feminist Guide to the Human Body. The latter, a prestigious academic award, allowed her to work on her book Making History Black: Theatre and the Art of Reimagination, an exploration of how contemporary Black theater artists are telling history through a Black feminist lens.
"It was really a validation of my choice to pursue a career as an artist and a scholar," says Thompson of the concurrent awards. While people often try to categorize her as predominantly one or the other, she sees her professional identity as an overlapping mixture of academic and artistic interests.
Thompson continued The Black Feminist Guide to the Human Body with a Spring 2021 National Performance Network (NPN) Creation Fund award. She envisions the finished project as both a performance art piece, featuring music and dance, and a kind of health fair in which health and wellness professionals will be on hand to answer audience questions. The award includes funding for productions with four theater partners: the Vortex and the Fusebox Festival in Austin, the Lorraine Hansberry Theatre in San Francisco and the Pyramid Theatre in Des Moines, Iowa.
As with several of Thompson's previous plays, this new work also includes comedic elements. More than just its entertainment value, she finds humor to be an effective means for conveying serious subjects to an audience.
"Comedy disarms people so they can be open to receive the message," she explains. "That's its superpower. It draws people in so they can listen closer. When you laugh, your body usually moves forward."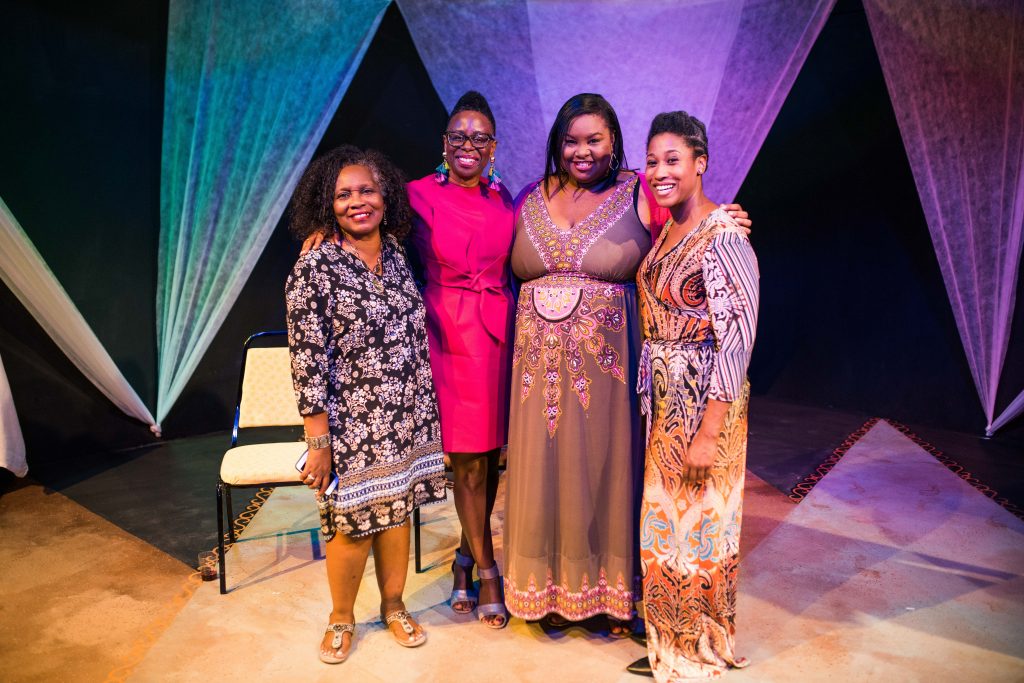 The themes underlying the laughter of this particular piece are heavy. Thompson describes the inspiration for writing it as "being in a Black woman's body in this country and reaching this age." She and a friend from college have been keeping a list of former classmates who have already died. It's much longer than it should be for women of their age.
"Our friends started dying when we were a month out of college," Thompson says. "I think people see statistics about black mortality but don't really have a sense of what it means to lose people that you attended college with so soon. Class ascension does not inoculate Black people from premature death. That means that the Black middle class is also dying unnecessarily, and the resources that they provide the community disappear. It is a tremendous loss in terms of human potential because of the way in which racism, and for Black women, racism and sexism, take years off of our lives."
Thompson hopes that The Black Feminist Guide to the Human Body will provide guidance for navigating the perils of Black health in the U.S. and also offer reassurance to a younger generation that they aren't alone and they aren't simply imagining things.
"That's why I take seriously the artist/scholar role," Thompson says. "The scholar is always there but the artist presents it in a way that people can easily access."
As a scholar of Black Studies who also creates art about the subject, Thompson often uses elements from one format as launching points for works in the other. Research that didn't fit into her dissertation, for instance, eventually became her play Single Black Female.
2020 was also the year Thompson published her first collection of plays. Underground, Monroe and The Mamalogues. Monroe, the first play Thompson wrote, is part of an ongoing trilogy about the Black Migration, its causes and its after effects.
"I'm really proud of that collection and sad that it came out during the pandemic," she says, but also notes that three new productions of The Mamalogues have recently been announced so she is hopeful and happy that people were still able to find and engage with the collection, despite COVID quashing much of the fanfare that typically accompanies a book's release.
In addition to her work as an artist and a scholar, Thompson recently took on another role, that of the College of Liberal Arts' Advisor to the Dean for Faculty Mentoring and Support. In this newly-created position she'll be involved in designing a mentorship program for both tenured, tenure track and non-tenure track faculty. Mentoring is something she's been doing informally for some time and sees as vital to success in education, especially for those entering academia without the advantage of having family members with similar backgrounds to guide them.
Thompson also emphasizes the importance of being able to take sabbaticals to pursue one's work and fellowships like the MacDowell, which give artists the opportunity to be around other artists doing different kinds of work.
"It really can sharpen you and make you think more deeply about your own work," she says.
During her MacDowell residency, Thompson stayed in a cottage previously occupied by James Baldwin, set amidst a sprawling 400-acre grounds in the New Hampshire woods. She was grateful to be able to create and recharge in such an idyllic environment. In the future, she hopes to see artists' residencies aimed at single mothers, for whom traditional programs are not always an option due to the demands of childcare, and other populations that might miss out on such opportunities if they aren't sufficiently accessible.
"If we really want diverse stories and want to know the truth about our complex world," she says. "We need to include people from different kinds of lifestyles."