Myth 1: Americans are deeply polarized
Since the 2000 and 2004 elections, the red state versus blue state metaphor has become entrenched among political commentators. Journalists are fascinated by the idea of a polarized american electorate because it suggests a great story of an epic battle between conflicting worldviews, Shaw says. In reality, the story is much more complex than Americans are led to believe.
"The concept of polarization implies that Americans increasingly hold extreme views: that there are a bunch of people on the liberal side and a bunch of people on the conservative side and very few people in the middle, which is not the case," Shaw explains.
According to data from ANES on self-professed voter ideology, moderates make up nearly 50 percent of the population, conservatives constitute about 30 percent and self-identified liberals about 15 percent.
"When we've examined Americans' opinions on a range of issues, we find they are actually very centrist," Shaw says. "for example, if we ask people, 'Is the war in Iraq good or bad?' there is polarization along predictable lines. But, if we ask a question like, 'Should we pull the troops out tomorrow, or bomb Baghdad?' very few people will choose either of these extreme options. Instead, they'll most often choose a middle ground solution, such as a slow withdrawal."
In other words, people's response to political parties and political candidates may be polarized, but they are not polarized in terms of their preferences for public policy, Shaw explains.
Demonizing one's political opponent is nothing new to American politics, but at the core, American voters remain firmly grounded in the center of the policy spectrum.
"We need to be careful about constructing these red and blue archetypes because that's not a costless portrayal of politics," Shaw says. "The way the media characterize the system can negatively influence people's attitudes and reduce participation."
Myth 2: Swing voters swing elections
Two myths about swing voters that have earned recent attention in the media are that they have easily identifiable demographic characteristics and a strong influence on an election outcome. But the notion that "soccer moms" or "NASCAR dads" will play a decisive role in a given election is flawed, according to Shaw.
While swing voters and swing groups make for entertaining stories, it is unclear there is a coherent sociology to swing voting, he argues.
"Most political scientists view swing voting behavior more as a function of a person's individual psychology than a demographic classification," he says. "Plus, there is no empirical evidence that these groups are disproportionately likely to swing. and, in high¬lighting the reputed interests of specific swing groups, the media
encourage candidates to focus disproportionate amounts of time on the concerns of a relatively small portion of voters."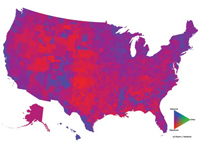 Historically, the majority of americans have maintained strong political party affiliations, Shaw says. And, data from ANES since 1952 show the number of people who think of themselves as either republican or democrat is as high as it has ever been.
"An election campaign for the most part is about activation, not persuasion," Shaw explains. "Activation is about reminding people why they're a democrat or a republican. The problem is the concept of activation is not the sexiest story of the election, so journalists tend to write about people who defect from their party and over-report the experiences of a small group, which distorts our understanding of the political landscape.
"Many Americans may feel uncomfortable with the par¬tisan postures of their parties and their candidates," Shaw adds. "But voters are still loyal members of their respective parties. Party affiliation continues to be a primary shaper, if not the primary shaper, of election behavior."
Learn about a third myth, "Voter turnout favors Democrats," based on Shaw's research.