Take a walk through the new College of Liberal Arts Building, and the building feels as fresh and modern as it feels warm and lived-in—an impressive feat for a place that just opened in January.
"This is our shot at greatness," says Randy Diehl, dean of the College of Liberal Arts. "This building ensures that we have the space we need to teach our students, promote world-class research and foster the collaboration and intellectual give-and-take that is vital to a great university."
The College of Liberal Arts Building, prominently located near the East Mall Fountain, is an impressive example of sustainable architecture and innovative fundraising. The work that takes place within its walls will impact not only the college, but also the university and society for generations to come. However, there was a time when the building's completion seemed next to impossible.
Setting the Foundation
At the start of the last century, many of the college's departments were housed under one roof in the original Main Building, a Victorian-Gothic structure that was torn down in 1935 and replaced by the university's iconic Tower.
While the original building served as an academic center, the Tower was designed primarily as a library and administrative offices. A subsequent building boom on campus led to departmental scatter, a trend that was not conducive to the interdisciplinary nature of liberal arts research.
Prior to Diehl's inauguration as dean of the College of Liberal Arts in 2007, interim dean Judith Langlois expressed concern about the need for new, high-quality space for the college. Spread out over campus, many liberal arts departments and centers were tightly packed in spaces unsuited to some of the most highly respected programs in the country.
"I knew what a difference the construction of the Seay Building made for the Psychology Department," Diehl says. "And through conversation with my colleagues in other departments I discovered that every one of them felt a need for space. Some were even turning down research grants because they had no access to quality experimental lab space."
Unfortunately, a downturn in the economy hit just as Diehl began to rally people behind the new building.
"I had an obsessive stubbornness that this was going to happen," Diehl says. "Space is a means to an end, and to continue to build outstanding programs with the best talent and students, a critical part is having a space in which they can thrive."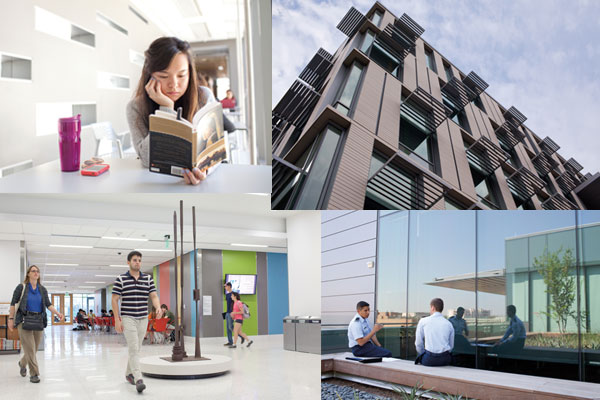 Unwilling to wait for state funding that is allocated to the university's list of capital improvement projects, Diehl's assistant dean for business affairs, Jamie Southerland, developed a plan for the college to self-fund most of the project. Diehl then worked with his business affairs, facilities and development teams to implement a unique combination of financing, fundraising and innovative design and construction techniques to move the project forward.
"This was the first time a college at The University of Texas at Austin has funded its own building," says Kathleen Aronson, the college's assistant dean for development. "We are the first college to take out a loan for a building and to identify college funds to finance the loan. It is a model for other colleges to follow."
Despite the economic climate, many alumni and friends of the college remained enthusiastic about the project and their financial support proved integral to the building's success.
A $15 million donation from UT alumnus and ConocoPhillips CEO James Mulva and his wife Miriam helped build momentum. Their interest in the project was piqued when they learned that the ROTC program, which is housed within the college, was in need of a new space. ROTC's home, Russell A. Steindam Hall, was decommissioned to make room for the new Liberal Arts Building.
"We'd been looking for the right project so we could, in a more significant way, help support The University of Texas and its commitment to education and research," Mulva says. "I went through ROTC—that's the only way I could attend UT—so I really wanted to support ROTC students. For these young men and women, it's not about making money. It's all about service to the country. They're very dedicated and bright students.
"For us, it's important, almost an obligation, that we give back to those institutions that have been important to us in our development," he adds. "That includes ROTC. That includes The University of Texas at Austin."
The university now boasts one of the best ROTC spaces in the country. Highlighting the four branches of the military—Army, Navy, Air Force and Marine Corps—the fifth-floor ROTC suite includes an observation deck overlooking the Waller Creek Greenbelt, a shared heritage lounge featuring a donor board and brief historical narratives of the four branches, a barber shop where cadets can get a $6 haircut, and a recreational room complete with a pool table. The center also includes alcoves in the public area dedicated to each branch, and heritage pieces such as a portion of a brick wall—salvaged from Russell A. Steindam Hall—marked with prisoners of war signatures.
Design That Works
Although final calculations are still pending, the total building cost is projected to be $87 million, much less than the project's initial expected cost of $100 million, and yet with more usable space—about 16,000 square feet— than originally planned.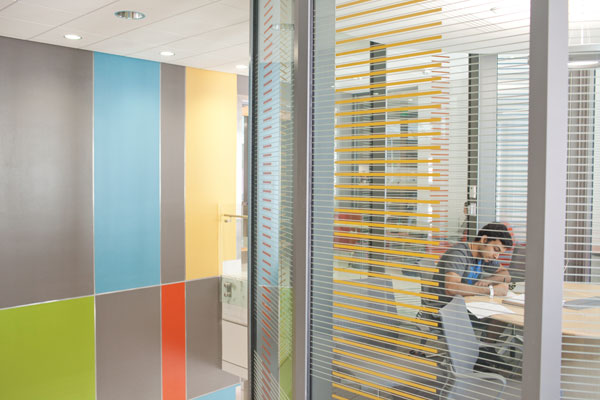 Joe TenBarge, assistant dean and director of Liberal Arts ITS and Facilities, attributes the savings to the intense levels of coordination and planning that occurred at every stage of the building process. TenBarge worked with the architecture firm Overland Partners, led by principal architect and UT alumnus Rick Archer ('79). Archer was joined by three other UT alumni from Overland on the project, including project manager Adam Bush ('04), project architect Fernando Ortega ('89) and team member Michelle Stedman ('03).
The Overland team worked with the construction company, Spawglass, to create an elaborate mockup next to the construction site that was used to troubleshoot for problems that typically occur during the construction process. TenBarge adds that Liberal Arts ITS staff installed all of the building's audio/visual cabling and classroom technology, saving on installation costs.
The building is expected to receive a LEED Gold certification from the U.S. Green Building Council. Some of the sustainable design details include:
Courtyard gardens with native Texas plants
Low-flow faucets and toilets
Natural lighting
Solar panels
High-efficiency heating and air conditioning
Non-volatile paints, glues, carpets and other finishes
CO2 monitors in all classrooms
More than 75 percent of construction waste recycled
Style and comfort, however, were not sacrificed in the name of sustainability. Architects worked with faculty and students early in the process to understand their unique needs. Stacey Amorous, associate director of the Liberal Arts Honors program, says faculty had input on everything from the size of the computer lab to the opacity of the glass that would surround their offices in the Alexandra Besing Liberal Arts Honors Suite.
So much time and attention went into this project, and I think it's absolutely fabulous," she says. "We all felt like our requests were heard."
Just across the hall, the Plan II Honors program director Michael Stoff describes the Lowell Lebermann, Jr. Plan II Suite as "wonderful."
"It's open, airy and inviting, with a large common room for students to gather and gab, study and commune," Stoff says. "From the moment they enter this beautiful suite, our students and faculty feel they've set foot in a welcoming world of learning."
Stoff's office opens directly onto the common room, a design feature that carries an important message: There are no barriers between students and the person in charge. With staff offices lining the hallway just beyond the common room, the Lowell Lebermann, Jr. Plan II Suite reflects the kind of intimate community that has been fostered in both honors programs, housed under the same roof for the first time.
Important connections between disciplines are also achieved through features such as a sky bridge that links the Liberal Arts Building to the Student Activity Center (SAC), which was completed in 2011 as the first phase of the overall complex of buildings. The sky bridge provides a vital connection to the Anthropology Department on the SAC's fourth and fifth floors.
"We are really excited to be connected to the new building," says Sam Wilson, professor of anthropology and chair of the Faculty Building Advisory Committee. "Our department articulates closely with many of the departments located there—linguistics, geography, sociology and so on—so we were already thinking of our two floors in the SAC as part of the new Liberal Arts Building."
Looking to the Future
For Richard Meier, chair of the Linguistics Department, the building's emphasis on making connections is critical to the future success of his students and faculty. He says improvements to his department's lab space will create more opportunities for collaboration and will meet the specialized needs of its researchers. The lab facilitates collection and analysis of audio/visual materials and directly engages students in departmental research.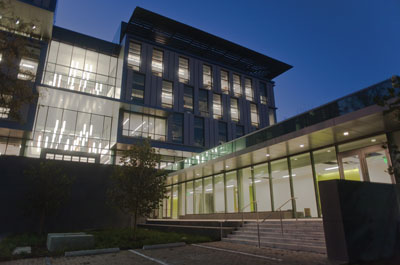 "In the last decade the empirical foundations for linguistic research have become much more sophisticated," Meier says. "Our field is also now one in which teams of researchers work together on projects; collaborative research is much more the norm than it once was in linguistics. With the lab space and with spaces for collaboration, we will have a home that is designed for 21st century linguistics."
While many new buildings are constructed to meet current needs, the Liberal Arts Building is unique in that 10 percent of the space remains undesignated—a purposeful, economical design feature that allows for change and future growth. Professors can apply for grants and compete for personalized lab space within the new building. The first recipient of a customized research area—the Sociology Department's Urban Ethnography Laboratory—will host creative and critical dialogues between ethnographers and demographers, with the goals of developing joint research projects, graduate training programs and grant applications to support these efforts.
Another important space for the creative dialogues sparked by symposia, lectures and special events is the Julius Glickman Conference Center, a six-room complex anchored by two large meeting rooms, each with a capacity of 100 guests. Students and faculty also find the 30 "smart" classrooms to be welcome additions to the learning environment.
Student Experience
"Everyone automatically falls in love with the space," says Morgan Caridi, president of the Liberal Arts Council, in describing the Dies Student Center. "It is very apparent that those who planned this had student opinion in mind and were very meticulous in making sure students would be comfortable and able to focus on academics."
She says students will benefit from the spacious lounge and meeting spaces exclusively reserved for liberal arts majors.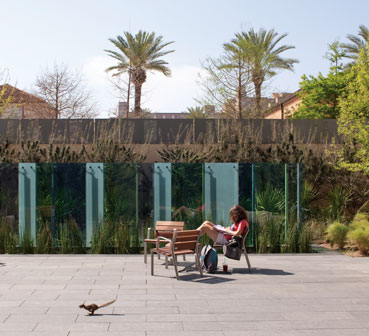 The feeling of community has considerably strengthened since the opening of the Dies Student Center, Caridi says. Students now gather in the sun-filled rooms or on the spacious outdoor deck to share ideas, work on upcoming projects, or just relax and enjoy the company of fellow liberal arts students.
"I look forward to hanging out here between classes and having the ability to better represent students," says Caridi, who adds she will now have better access and more "face time" opportunities with students.
Gone are the days when Liberal Arts students resigned themselves to camping out in other areas around campus. They now have a building with the best teaching and research spaces on campus, and a place to call home.
Liberal Arts Honors psychology senior Alana Harrison sums it up best: "A new building isn't just a place for liberal arts students to study; it's a place for liberal arts students to forge an identity."
The new College of Liberal Arts Building welcomes the following departments, centers and programs: Liberal Arts Honors Program, Native American and Indigenous Studies, Population Research Center, Plan II Honors Program, Schusterman Center for Jewish Studies, Department of Geography and the Environment, Department of Sociology, Department of Linguistics, Department of Military Science, Department of Naval Science, Department of Air Force Science
Photos by Lance Rosenfield